"When Garbo Talks" Was Worth the Wait
By Sharon Bell
Entertainment Editor
In 2008 at the International Center Theatre in Long Beach a test audience of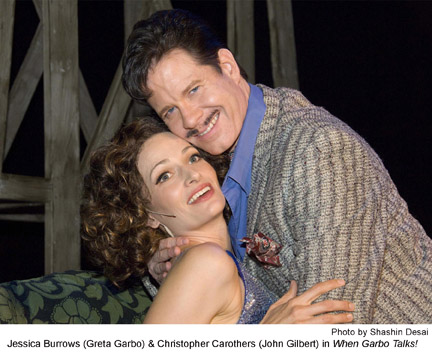 349 people saw a staged reading for a musical comedy which was titled "Garbo…the Musical". They were to determine whether the play was worth polishing and being included in the theatre's Silver Anniversary Season. Now almost two years later the project has come to fruition with the musical "When Garbo Talks" which premiered on October 15.
Recounting the show's journey to the stage Honorary Producer, Richard D. Kaye states, " I had submitted the script to Shashin Desai(ICT's artistic director several times in hopes that he might want to produce the show, and in 2008 he contacted me about doing a staged reading. So Jules Aaron, the director and I got eight actors and a piano player/musical director together and did the whole show." During the feedback session Shashin asked the attendees, "Would you like to see this show as part of our next season? " The audience gave an overwhelming response.
Sadly the composer, Mort Garson, and Richard's father, Buddy Kaye, who wrote the book and lyrics, passed away before seeing the finished play. Mort Garson conducted the London Symphony Orchestra and the Los Angles Philharmonic. His published songs include the #1 hit "Our Day will Come" recorded by Ruby and the Romantics, Frankie Valli and k.d. lang. His Grammy-nominated album was "Zodiac Cosmic Sounds". He arranged scores for episodic TV and game shows. He is recognized as a pioneer in the field of electronic music.
Buddy Kaye was a well-known songwriter/lyricist, penning songs for Perry Como, Sarah Vaughn, Frank Sinatra, Tony Bennett, Dinah Washington, Ella Fitzgerald, Diana Krall and Barry Manilow. He wrote the theme song for the TV series "I Dream of Jeannie" and won a Grammy for producing "The Little Prince" narrated by Richard Burton. As an author his most successful book was "The Gift of Acabar"(co-written with Og Mandino) now in its seventh printing. He was working on the Garbo musical when he died in November 2002 at age 84.
Richard Kaye says, "I promised him while he was working on the show that I would see that it got on stage. The day after he passed away, I was at his house in Rancho Mirage, and I saw the script sitting on top of his desk." So I just said, "I'm going to keep my promise, and I picked up the script and started working on getting the show produced."
Almost eight years later on the ICT stage is presented the journey of a young, Swedish girl, Greta Gustafson, who desperately wanted to be a great artist and the travails it took to become the legend, Garbo. Her legacy, besides her fine acting is retiring while on top after her last film "Two-Faced Woman" had been heavily censored and then spending her last years as a recluse. Her most famous statement, " I vant to be alone" was really "I want to be let alone."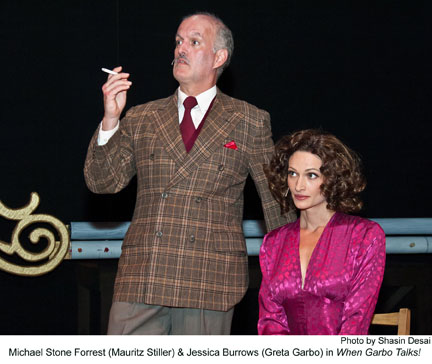 Jessica Burrows as Garbo did a beautiful job on the song "My Winter Tree" which is a longing for a return to her beloved Sweden. The number shows the depth and range of her voice. A clever plot device was Garbo standing on a riser speaking, and her former drama coach, Signe Enwal(played exceptionally well by Alexandra Ackerman) was seated below and to the left reading the letter containing Garbo's words. At the end of the letter Garbo is in darkness, and Signe is alone on stage, and without words Alexandra shows the audience the poignancy she feels for her friend's misery and the loss of her.
There is a moment in Act I when Alexandra puts her arms around Jessica from behind to help with a costume change. According to Kaye this was to show sexual tension between the two women. Although Garbo's bisexuality is denied by her family, it is the general consensus by those who knew and worked with her. She had a relationship with a woman, Mercedes de Acosta, which was very publicized but occurred after the time frame of the play. Richard D. Kaye had discussed this point with his father, who thought that Garbo's sexuality should be included, so it was transferred to the character of Signe.
The show also delves into the relationship with her first director, Mauritz Stiller, who was an openly gay man. Greta idolized him and being only eighteen thought that she could change him. Michael Stone Forrest gives a fine performance as the imperious, pompous and extremely-talented director. His clashes with Mayer are highly charged. After observing a love scene between Garbo and John Gilbert he wistfully sings "The Way You looked at Him" with a voice full of longing.
The play chronicles the struggles of a talented young actress having to fight for quality roles, buck the system and studio boss Louis B. Mayer, hilariously played by Matthew Henerson. Teya Patt as Mayer's secretary brought energy to the dance numbers, and her role showed the lack of opportunity for women to advance in the film industry at the time. Mayer's Go-For, Eddie, was engagingly portrayed by Nick Rogers. Their dance numbers harkened back to vaudeville which was apropos for the period. Kay Cole's choreography made the most of the small space. Jules Aaron shows a deft hand with his actors and blocking.
Scott Kruse in triple roles first appeared on stage as Mayer's business partner in his boxers and dressed before the audience while having a phone conversation with Mayer about Garbo.. Few women in the audience paid attention to the dialogue. Christopher Carothers as the handsome silent screen star, John Gilbert, had the good looks and voice which he displayed on the wonderful number "Ev'ry Day and All the Time", a love song to Garbo after she had left him at the altar.
Richard D. Kaye worked tirelessly for eight years to bring his father's last dream to the stage, and on Saturday night in view of many family members it was achieved. The spirit of Buddy Kaye was felt by everyone.